.
Garden Diary - September 2019
---
If you have any comments, observations, or questions about what you read here, remember you can always Contact Me
All content included on this site such as text, graphics and images is protected by U.S and international copyright law.
The compilation of all content on this site is the exclusive property of the site copyright holder.
---
September
---
Riverfest at Frenchtown
Sunday, 1 September 2019
---
It's an end of summer event in Frenchtown. Mind you, we've already celebrated Memorial Day on Monday, May 27th, and Bastille Day on Saturday, July 13th. Let it not be said that Labor Day passed unnoticed. Never!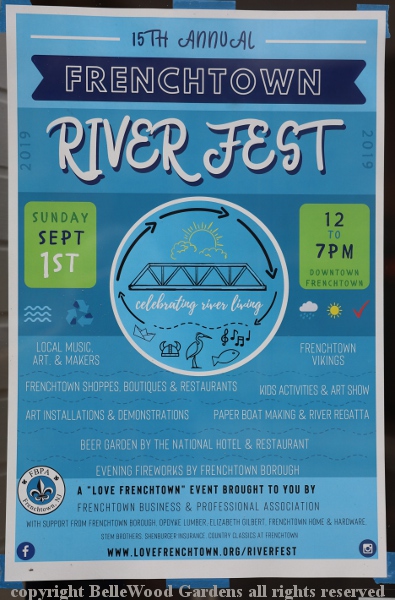 So here we are, ready to celebrate the 15th annual Riverfest at Frenchtown.
Seeing as the event starts at noon Paul and I assumed we could leave home at that time and arrive 10 minutes later as the festivities get under way. Silly us. Tourists and visitors must have been under the starting gun. Parking at the Kathee's General Store lot was already filling up. And mind you, this was the only fee-charged lot. A modest $3 but even so . . . We parked at the curb along the street, which is where us locals always park when using the lot.
First things first, and I suggested lunch had priority. Hoards of hungry tourists and even with street food, a special event beer garden at the National Hotel it could be crowded.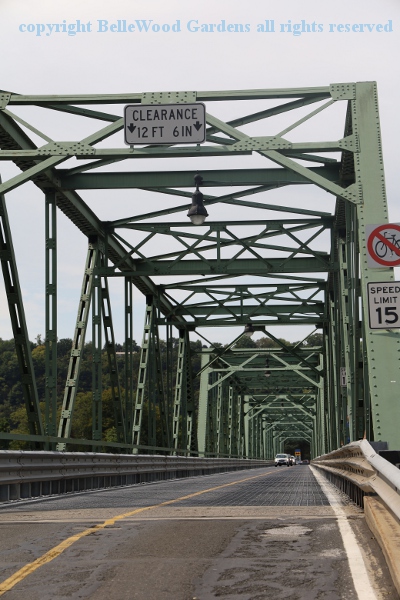 So we walked toward the bridge across the Delaware River and before crossing into Pennsylvania turned in to our favorite eatery, the Bridge Cafe. I know, I know. I'm there every Wednesday morning for the knitting group. And we go there for an occasional let's-eat-out lunch. So let's go today, where everyone knows our name. We got there with maybe 3 or 4 people ahead of us. I had a crab cake sandwich, Paul had a Bridge burger with cheddar and bacon. And by the time we left they were filled up indoors and out.

The nearby stretch of Bridge Street had been closed to traffic so vendors, musicians, and artists could set up. I hear horns bellowing. What's this? Bet you never knew that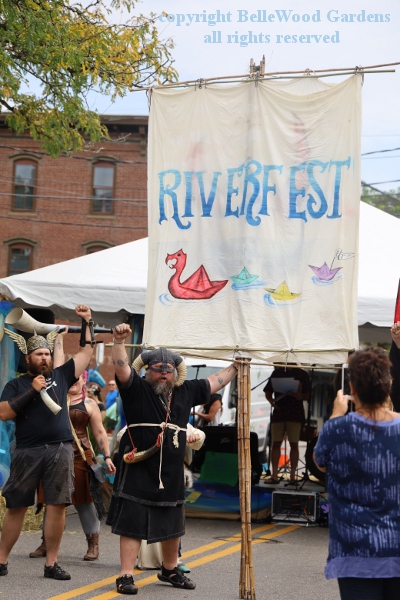 the vikings, having reached the continent made a turn (was it left? or right?)
into the mighty Delaware River and sailed as far up-river as Frenchtown-to-be.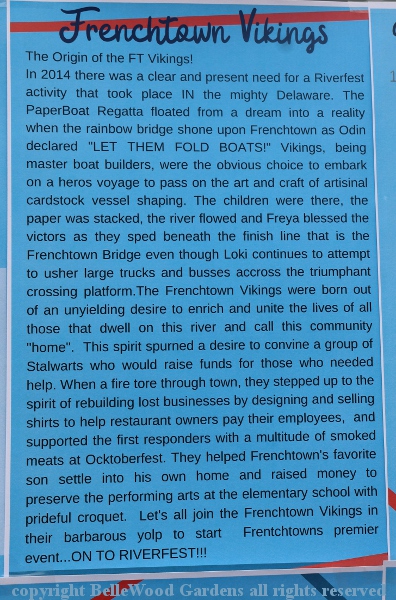 Here, this thoughtfully created poster will explain things to you.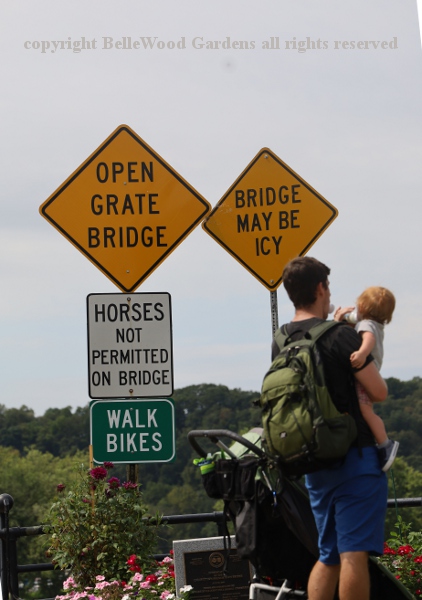 There were a goodly number of people on the bridge, enough that
the two bridge keepers came out of their tiny building to get folks
better distributed, Everyone was staring up-river at the vikings who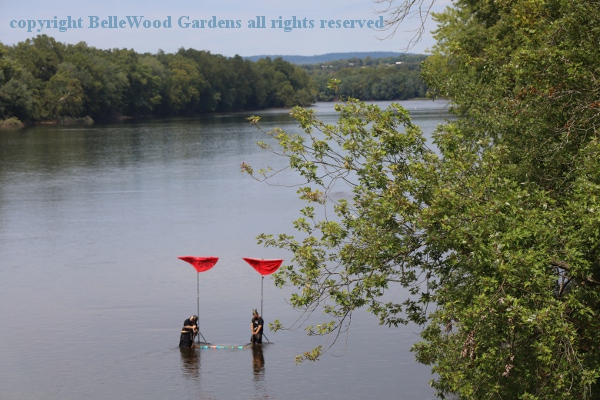 were preparing to release some small origami-ish cardstock boats (that's what
the nearly invisible, all lined up, little green and blue widgets are) for the regatta.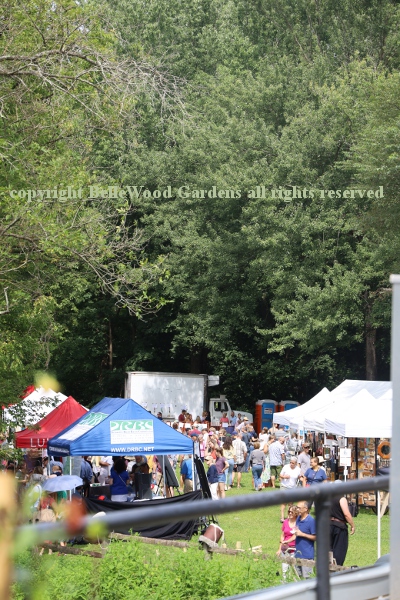 Along the river are visitors and vendors and food booths and more.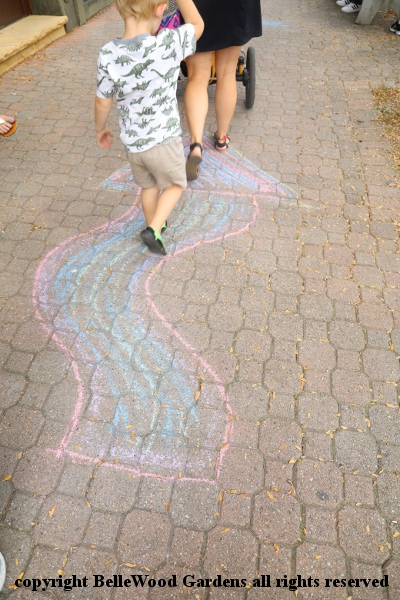 Sidewalks are embellished and decorated with pavement chalk.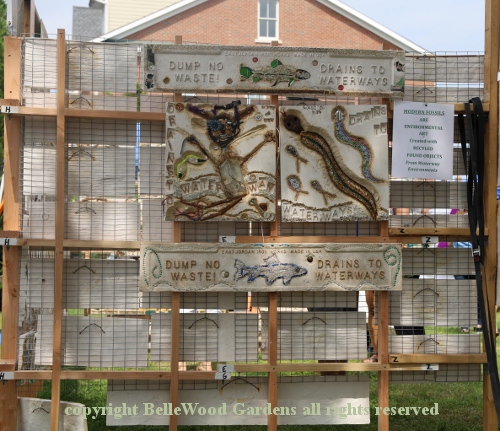 I though these Modern Fossils coincided nicely with the little boy's dinosaur shirt.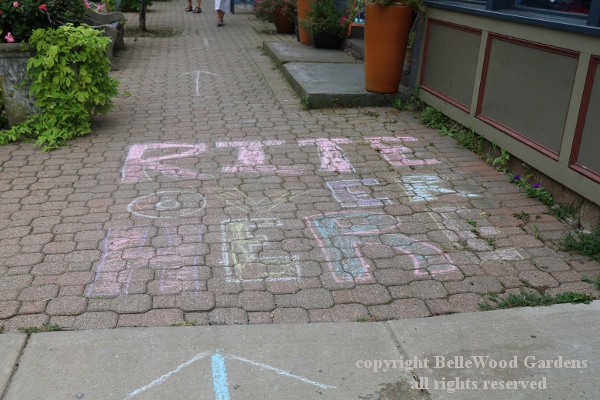 More chalk walk signs, suggesting which way out-of-town tourists should walk,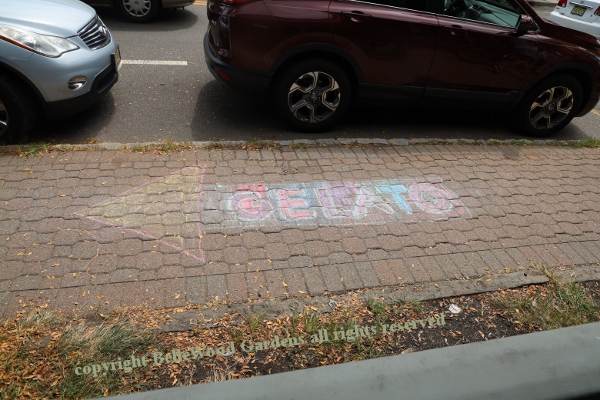 or perhaps along on the other side of the street to find something cool and sweet to eat.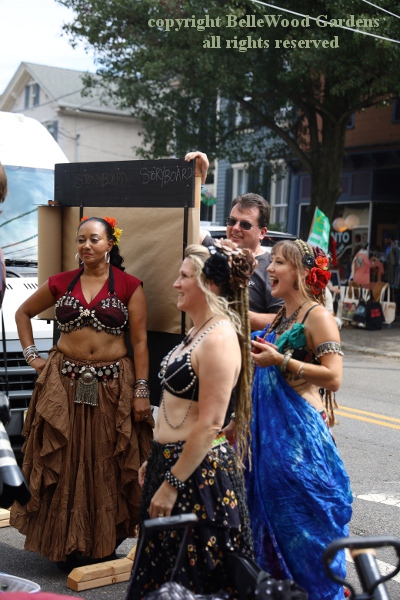 The belly dancers were getting ready to perform. One had a tiny chihauhua
up on her should but, not a parrot, he didn't stay there for her performance.
There were numerous other assorted dogs, all leashed, and
very well behaved among the crowds. And then there was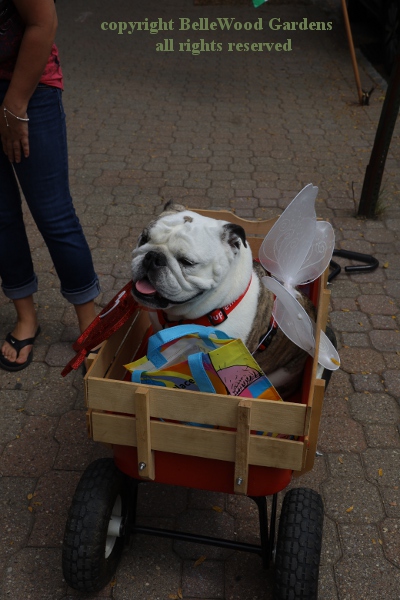 a bulldog in a coaster wagon, with wings. Cute, but sturdier wings
needed if he was really going to fly. It is always prudent to ask first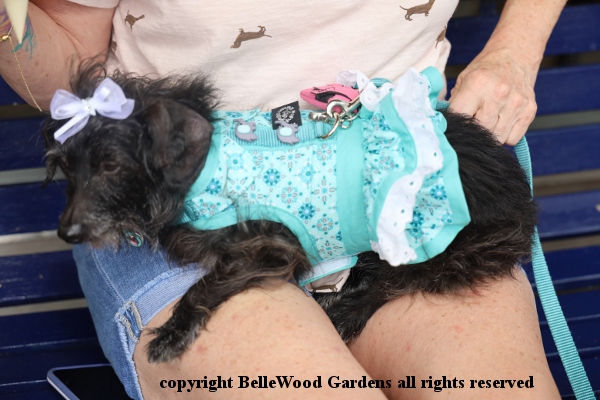 and I was warned off this elderly dachshund who could be snappish.
Traffic had to detour around the closed streets. Cars were, some of them, heading across the bridge to park at the Schneiderwind Farm and Nursery just across the river. Bicycles were chained to the bike rack near the Bridge Cafe. When that filled up they were chained to trees, or each other.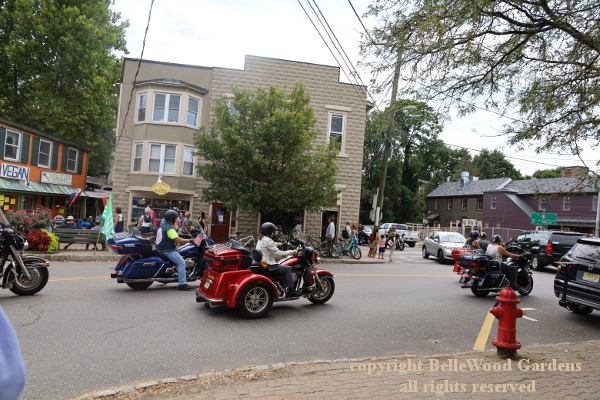 There's a small motorcycle lot along Bridge Street towards Route 12 but perhaps
it had filled and this pack was looking for somewhere else to park their machines.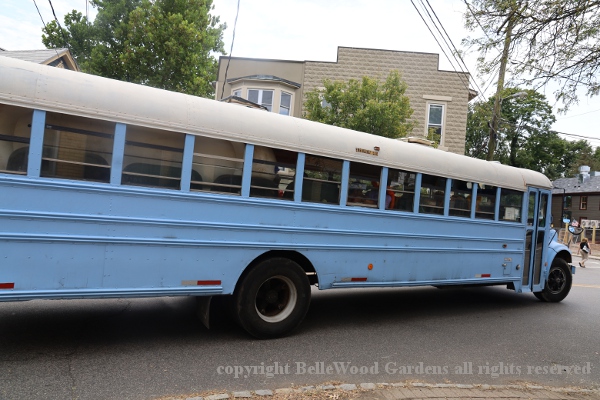 I know the big blue bus was just angling around to get to Route 29 and either let off
or pick up their customers who were tubing, canoeing, or kayaking on the Delaware.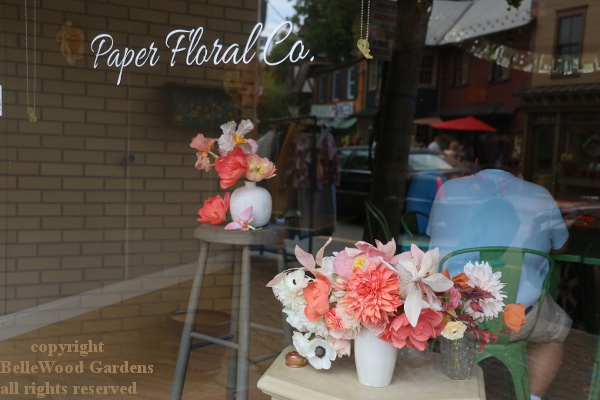 Shops were also enjoying the influx of visitors. The Paper Floral Company, for one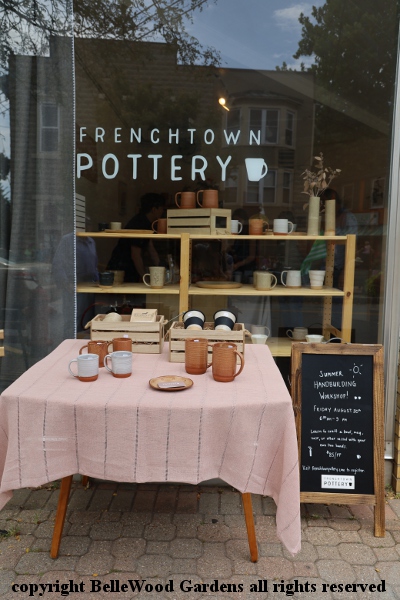 and the Frenchtown Pottery. They have some very nice artisanal wares - mugs and
cups, some plates. I like their glazes. Michael and Sam will offer occasional classes.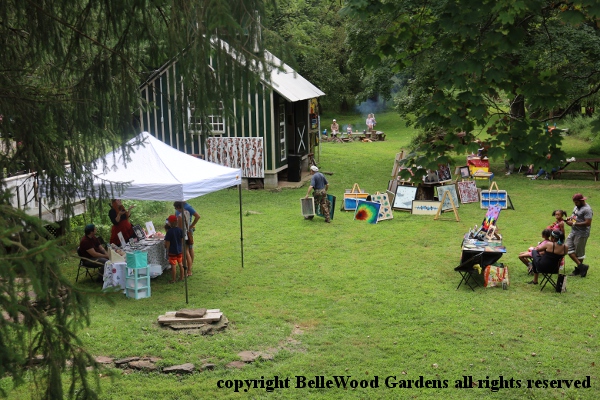 There's an open art studio with displays set out on the green grass lawn.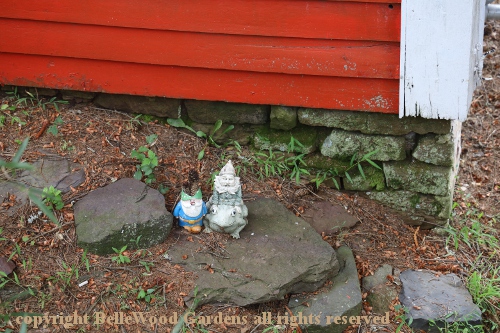 I wonder what the gnomes think of all this Sunday activity.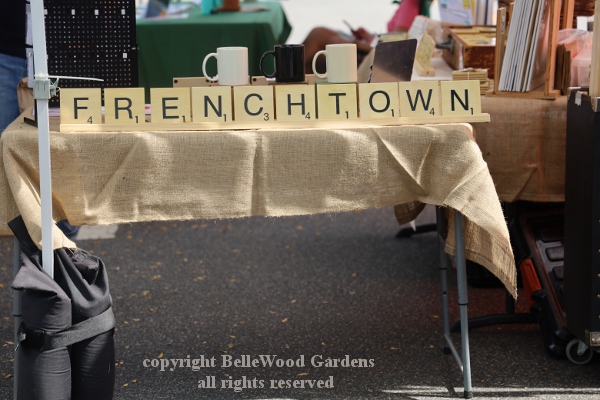 However you spell it, whatever the Scrabble points, it is a very pleasant Riverfest in Frenchtown.
---
Back to Top
---
Back to September 2019
---
Back to the main Diary Page